Finale™
Ultimate Finishing Tool
P R O F E S S I O N A L :
Highly efficient and durable Lithium-Ion battery for
80 minutes run time and 120 minutes charging time.
Cord / cordless operation.
S P E C I A L :
Hypoallergenic gold foils for bump free results.
P O W E R :
Powerful, heavy-duty operation.
P R E C I S I O N :
Removes any stubble for an ultra smooth finish.
Perfect to finish bald fades.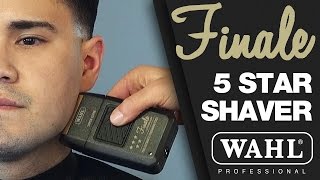 Specifications
Battery Charging Time: 120 min
Battery Operating Time: 80 min Li-Ion
Blade: Reciprocating cutters with hypoallergenic gold foils
Cutting length: 0.1 mm | 0,1 mm
Mains Operating Time: Continuous operation
Operation: DC motor, 7,000 – 10,0000 rpm
Weight: 160 g (without cable)